Blessed Edmund Rice
---
May 5th
---
"Pursue Excellence in all Endeavors"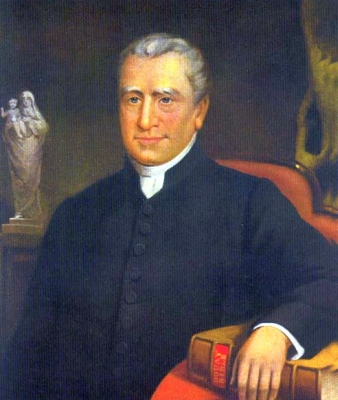 Why May 5th?
The feast day of Blessed Edmund Rice is on May 5th and has been celebrated since his beatification by Pope John Paul II in 1996. The inspirational life of Blessed Edmund Rice will be celebrated with an all-school mass, Junior of the Year ceremony, Gold Key Raffle drawing and the kick-off of our 4th annual Crusader Day of Giving - live on Brother Rice TV beginning at 8:40 a.m. Join us in living out the Essential Elements and "Pursue Excellence in all Endeavors."
For over 65 years, Brother Rice High School has remained the most vibrant, successful all-boys Catholic high school on the southwest side of Chicago, providing young men the opportunity to excel in all aspects of their lives: spiritually, academically, and athletically. The theme of "Exceptionalism" — evident in all aspects of the Crusader community, from their students, parents, and families to their alumni — shines through in Brother Rice's commitment to preparing young men for lifelong learning and guiding them to develop a strong moral compass, rooted in the motto to "Act Manfully in Christ Jesus."
What is the Crusader Fund?
Your gift to the Crusader Fund helps our students and families afford a high-quality Catholic education that Brother Rice has proudly provided since 1956, including:
Essential Elements of a Christian Brother Education:
Evangelize Youth within the Mission of the Church
Proclaim & Witness to Catholic Identity
Stand in Solidarity with those Marginalized by Poverty & Injustice
Foster & Invigorate a Community of Faith
Celebrates the Value & Dignity of each Person & Nurture the Development of the Whole Person
Collaborate and Share Responsibility for the Mission
Pursue Excellence in all Endeavors